Toilet Tissue Overwrap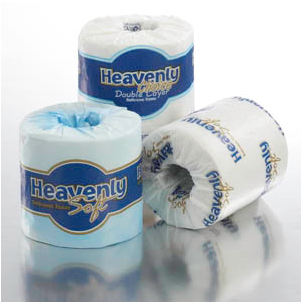 Selecting the right tissue overwrap supplier is critical to manufacturing a presentable toilet tissue roll. From the printer to the toilet tissue wrapping process, the tissue overwrap paper plays a critical part in the design and look of the toilet tissue package. The tissue overwrap paper used can have a substantial impact in the wrapping of the toilet tissue rolls; a high quality overwrap can ensure a consistent, presentable wrap every time. As customers become more demanding on the quality and appearance of the toilet tissue packaging, it becomes more critical to thoroughly assess your options for tissue overwrap paper.
Shawano Specialty Papers (SSP) tissue overwrap is designed to provide our customers with a product that has excellent ink holdout and press performance to ensure a clean, quality print image every time.
Our innovative design and control of gloss ensures less slip on the converting equipment and better memory for roll end tucking. SSP consistent moisture control allows for better wrapping consistency.
The paper machine's 124" trim allows for a variety of roll width options for multiple converting equipment manufacturers. Utilizing SSP tissue overwrap can substantially improve the printers and converters machine efficiencies. We have documented cases of significant measurable improvements of up to 20% reduction in waste and downtime when they have begun to use the SSP tissue overwrap.
Shawano Specialty Papers has been a primary supplier in the tissue overwrap market for many years. We have dedicated technical resources to ensure our product continues to provide the quality you expect. Utilizing SSP tissue overwrap will continue to be a competitive selling advantage for our customers.